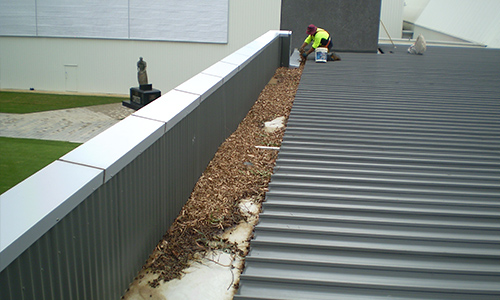 We understand the importance of looking after your valuable assets and take a "prevention is better than cure" approach to serving our customers.
Regular inspections and maintenance of your roof and facilities can help extend their life, and avoid costly damages and downtime. Let us tailor a facilities management plan that is flexible and responsive to your needs.
Then there are times you can't plan for; our emergency response service is there for those times
If rain is causing a roofing problem for you, our team can come out and make safe the environment to mitigate the risks of more severe damage.
Our current clients include large asset management firms and smaller owner-operator businesses, who trust us to maintain their facilities and roofing systems so they can get on with what they do best, running their business.
Our experienced maintenance professionals, each with a fully-maintained vehicle and trained in height safety, will always provide high standards of service, quality and workmanship.
"I was very impressed with the professional approach and the way in which they handled every aspect of the works. The WHS standards implemented were excellent and the job was completed to a very high standard. The C&R team has always acted quickly and provided us with the information required to resolve the issues immediately."

Richard Wise, National Manager – BSA Maintain
Our maintenance services include
Programmed Maintenance Agreements
Roof inspections, written reports and recommendations
General roof and wall cladding repairs
Cleaning of gutters and rainwater systems
Façade cleaning
Skylight replacement
Air conditioning and service penetrations
Roof walkways, hatches and safety systems
Insurance Work
Responding to roof leaks
To arrange an inspection of your premises, or for more information on our maintenance services, email maintenance@claddingandroofing.com.au